Double Cleansing
People often ask me about double cleansing – what does this mean? Why do I need to do it? What are the benefits to double cleansing?

Healthy skin begins with clean skin. Washing your face may seem like a simple task, but there's more to it than basic wet-lather-rinse. Daily life exposes your face to pollution, dirt, sweat, sunscreen and makeup, which can actually age your skin over time. So, your cleansing routine needs to gently remove that dirt, while nourishing your skin. This is where Double Cleansing comes in.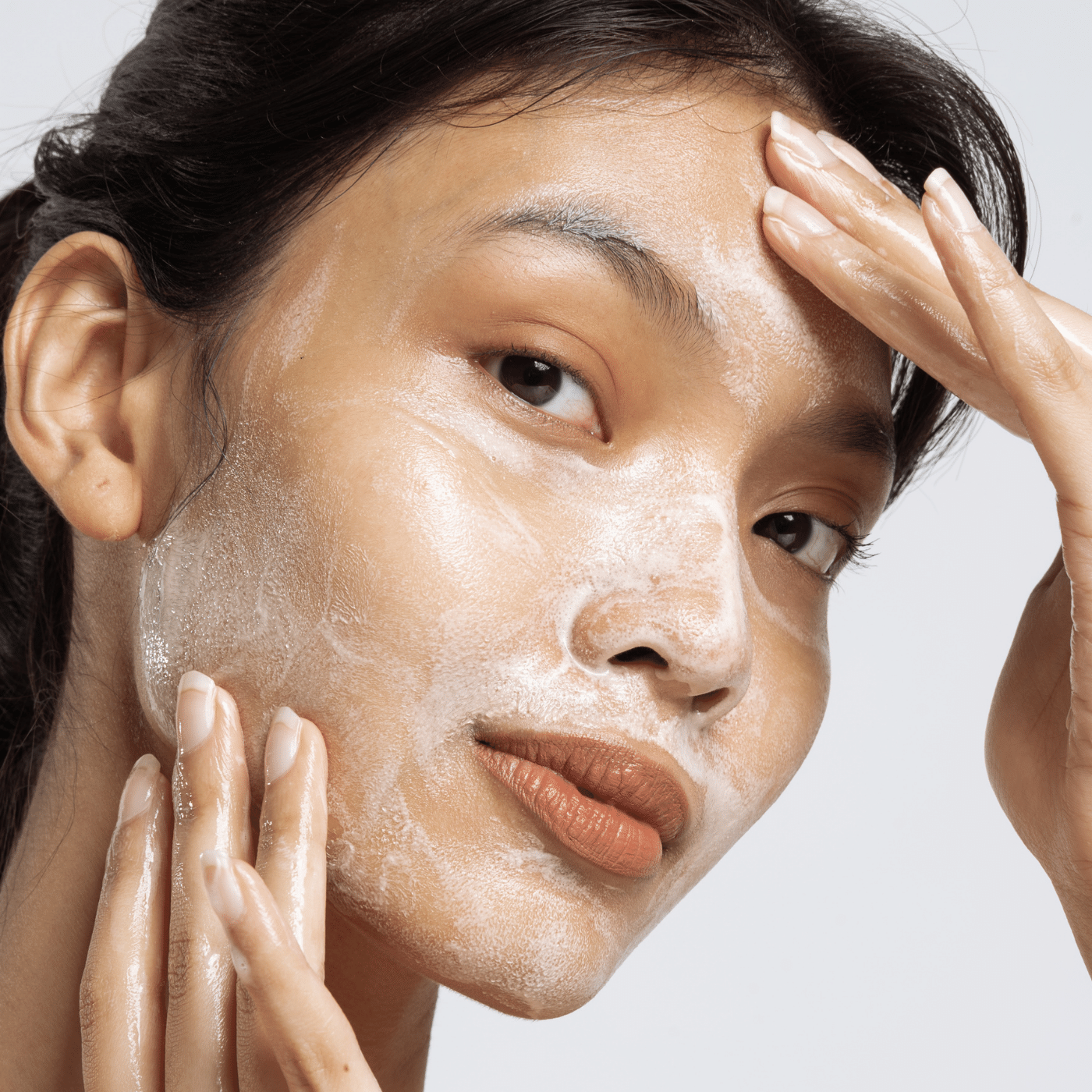 What is Double Cleansing?

Double cleansing is exactly what it sounds like – it simply means that you are washing your face in two steps. First, with a cleansing oil to break down make-up, sunscreen and excess sebum, then following it with facial cleanser made with water to lift any remaining dirt. This practice was established in Asia and has been used for hundreds of years to help people remove their makeup. While the practice is ancient, we know from modern science that "like dissolves like" and a facial oil cleanser will remove excess oil and oil-based product residue, while a water-based cleanser will get rid of other water-soluble dirt that remains on your skin.
Overall, double cleansing works to clean your skin as thoroughly as possible by using the two kinds of cleansers to get rid of the different kinds of dirt on your face. Your face is getting cleaner than if you used only one cleanser, and it's a gentle way to clean, which is recommended for healthy skin.
What Are the Benefits of Double Cleansing Your Face?
Double cleansing can be an important part of your skin care regimen.
First, double cleansing counteracts the effects of air pollution that our skin is exposed to, especially if you live in an urban, densely populated part of the world. Smog, soot, car exhaust – are all pollutants that penetrate your skin, causing wrinkles, pigment changes and other signs of aging.
Second, double cleansing uses oils, which help support the protective barrier on your skin called the acid mantle. It is made up of phospholipids and using an oil cleanser helps preserve that barrier and avoid the "squeaky clean" feeling that comes with stripping away your natural, protective skin oils.

Third, when you slow down and give yourself a full 60 seconds to massage your cleansers into your skin, you get the full benefits offered by the oils. Natural oils are full of skin nourishing vitamins and fatty acids and double cleansing gives you time to massage the oil nutrients into your skin for better penetration. 
If you have oily skin, you don't have to worry that an oil cleanser will make you break out. Quality oil cleansers are made with non-comedogenic oils, which don't clog your pores and dissolve excess sebum on your face. They are then rinsed away leaving your skin prepared for the water-based cleanser to penetrate the pores more deeply.

If you have sensitive or dry skin, double cleansing allows you to avoid harsh chemicals that irritate and dehydrate your skin. While the oil cleansers help maintain the natural phospholipid barrier that protects your skin, it needs to be paired with a gentle, pH balanced water-based cleanser that is made without stripping sulfates, is gentle and thorough, to cleanse while protecting your skin from irritation.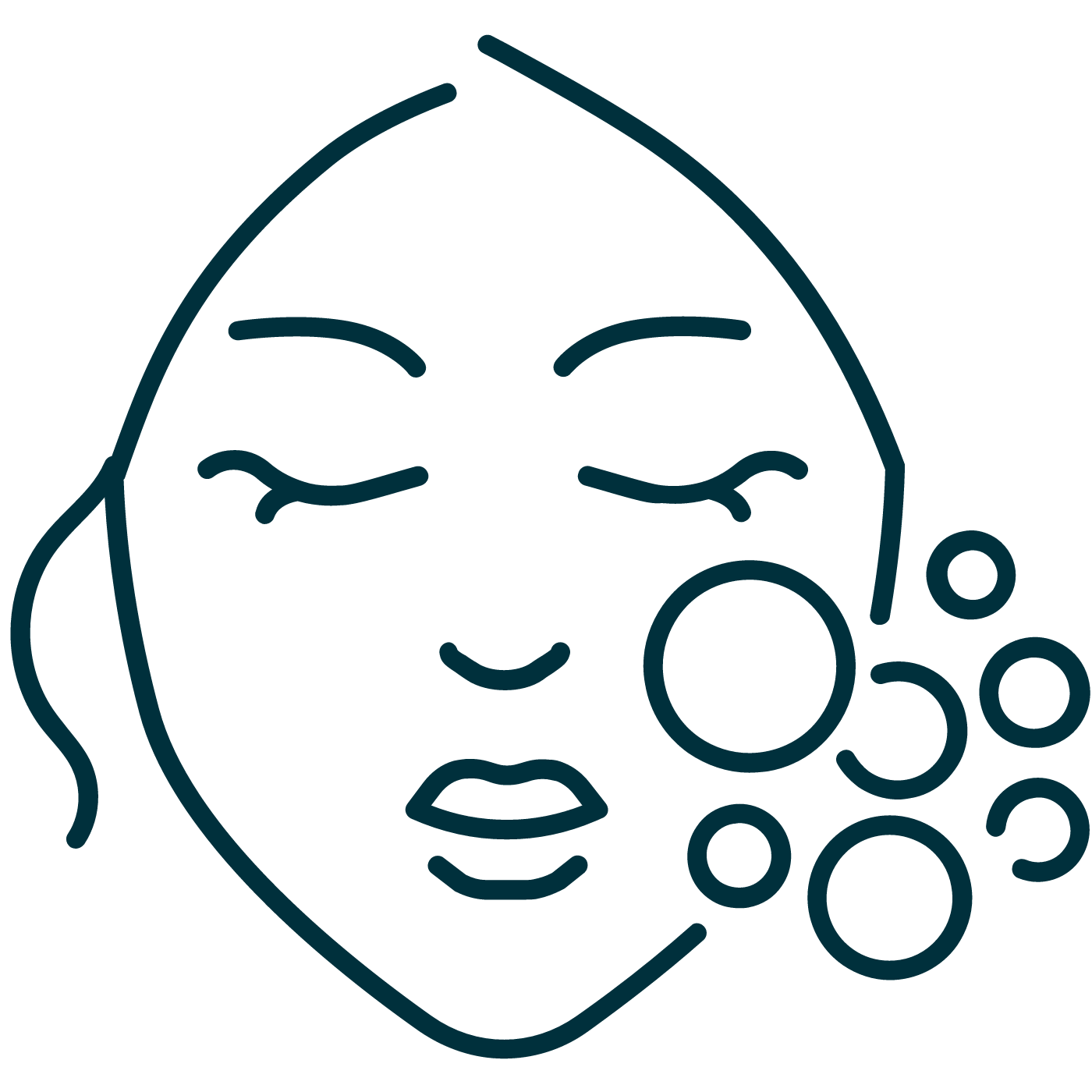 How Do I Double Cleanse My Skin?

The average person takes just 20 seconds to wash their face with a basic wet-lather-rinse process. It is worth taking your time to massage each cleanser into your skin for a full 60 seconds. This gives your cleansers time to fully dissolve the dirt, oil and debris they are removing, and the massage helps work the cleanser into your pores. You do not need special brushes, tools or cloths. Just use your (clean) hands to massage in the cleansers for a gentle clean. I recommend singing the ABC song twice to keep track of timing for a full 60 second wash.

Oil Cleanser
Apply oil cleansers to dry skin and massage in to dissolve any makeup, sunscreen or excess sebum. Oil-based cleansers usually contain an emulsifier, which when combined with water, creates a milky-type effect so your oil cleanser can be rinsed away.

Foaming Cleanser
Follow with a water-based cleanser applied to moistened skin. Massage it into your skin, taking the time to focus on areas where you are prone to breakouts. Then rinse that off. Rinse using lukewarm water and slightly pat dry, leaving your skin damp. Your skin will feel clean and refreshed, but not oily or tight.

Toner
The final step is to use a pH balanced toner. Water has a neutral pH of 7. But skin has an acidic pH of 5. You need toner to return skin to its natural pH levels. And don't bother with throwback alcohol toners! Toners are now nourishing and prep your skin to better absorb acids (like ascorbic or lactic) found in serums and moisturizers. 
How Often Should I Double Cleanse?
You should definitely double cleanse at night to remove daytime makeup and grime and prepare your skin for overnight serums and treatments. But in the morning, it may not be necessary. Your skin changes with your menstrual cycle, the season, your location, your age and many other factors. Some days your skin will be very oily, others it may be dry. If your skin was thoroughly cleansed at night, your morning routine is less about cleansing and more about keeping your skin fresh and hydrated and ready for the day. You can adapt your use of the cleansers based on your skin's needs. If your skin is very dry, use the oil cleanser alone and skip the foaming cleanser. If your morning skin is very oily (you know how it gets in the summertime!), use the oil cleanser to dissolve that extra sebum, then refresh with foaming cleanser. Or if your skin is feeling balanced, you may only need a splash of water and some toner for hydration before putting on your moisturizer. The point is to keep your skin healthy and balanced. Switching up your double cleansing routine lets you to respond to your skin's ever-changing needs.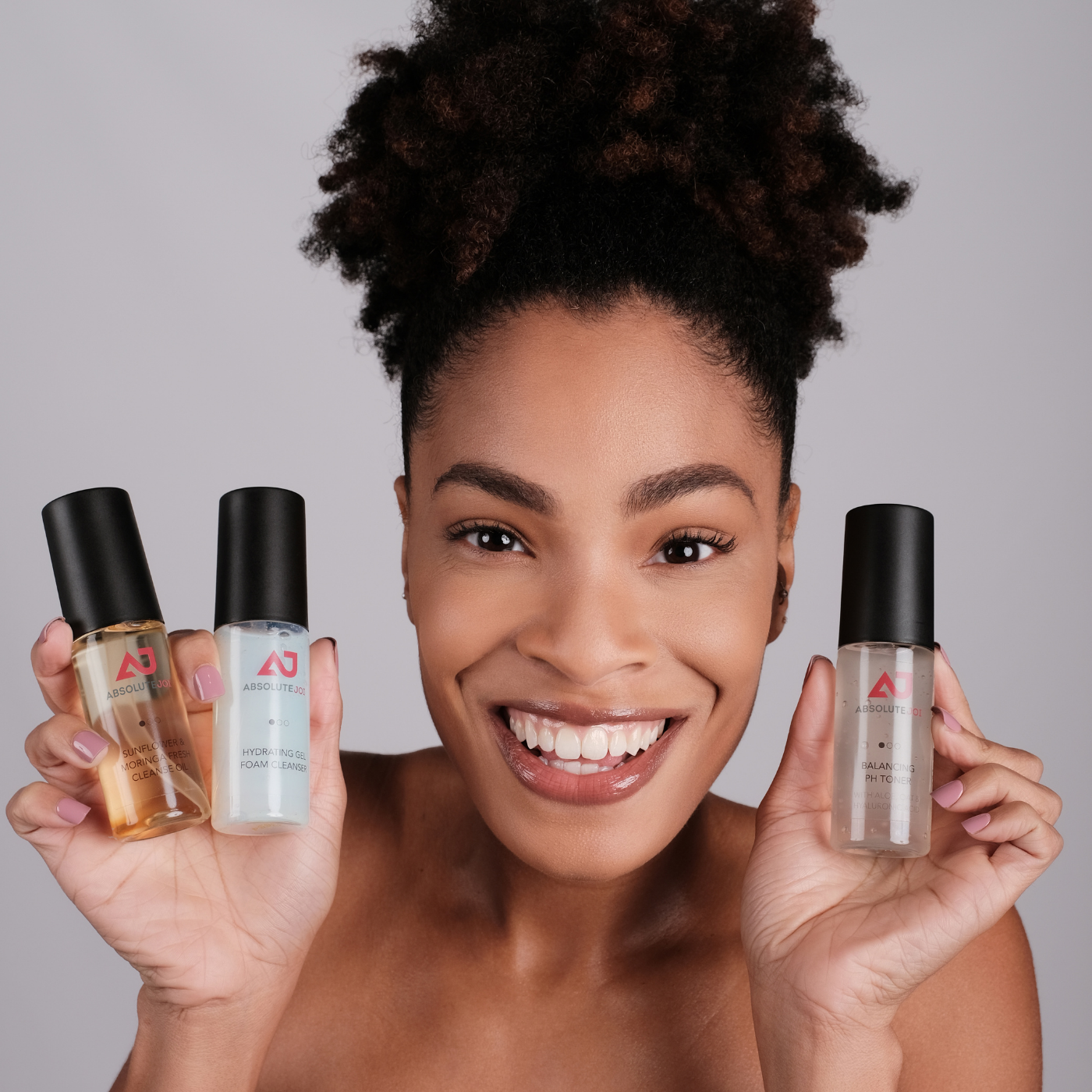 You don't have to be a skincare fanatic or commit a lot of time to double cleanse. But it's been getting a lot of mentions and attention lately and I think it's worth a try!
Please comment and let me know. I would love to hear your feedback.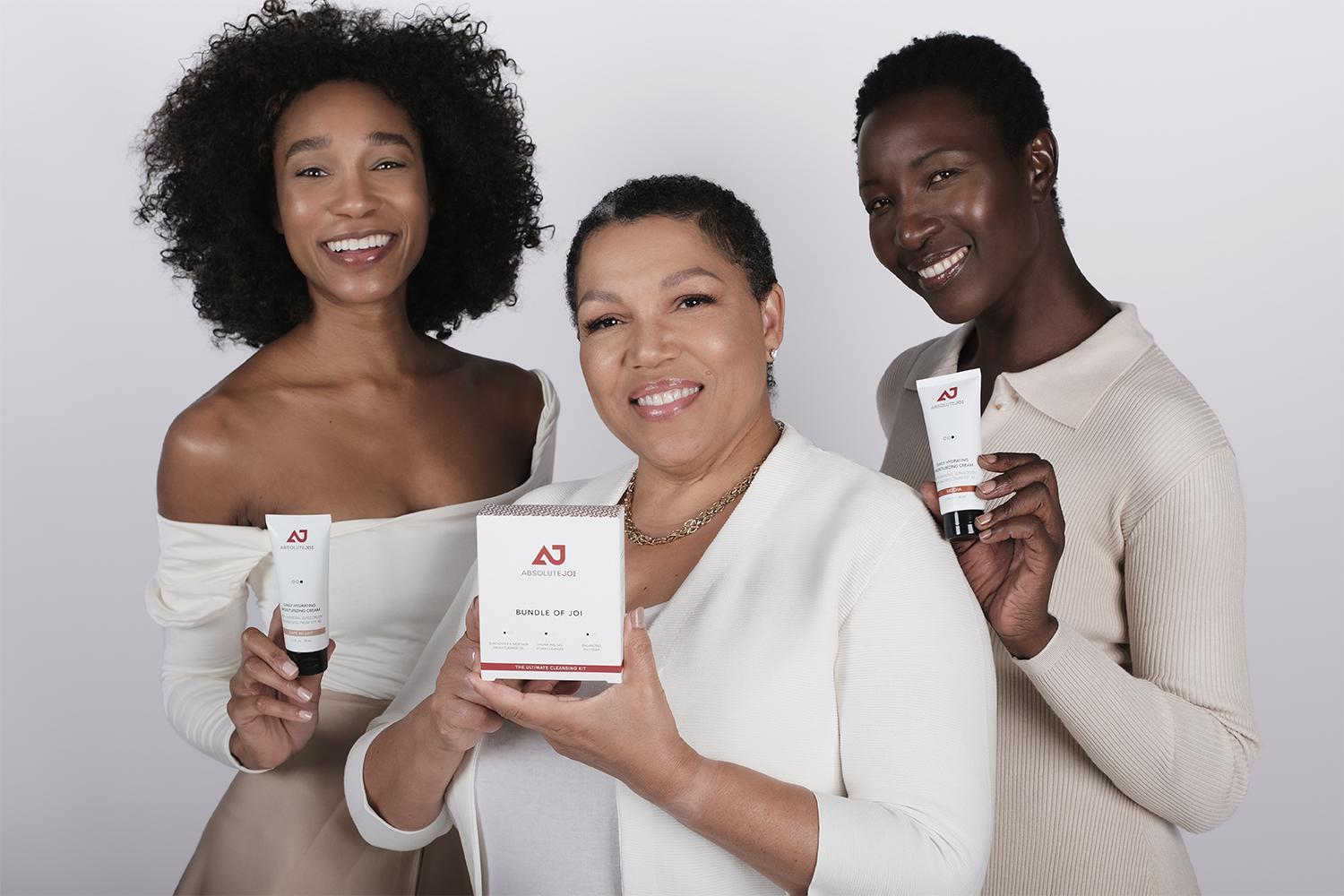 AbsoluteJOI Skincare

We offer people with melanin-rich skin effective products to optimize skin health and reduce signs of aging. Developed by physician-researcher, Anne Beal, MD, our mission is to create clean skin care -- based on science, not hype -- that nourishes and protects melanin-rich skin for a healthy even complexion at any age.
Each product combines natural and clinically effective ingredients for healthy skin. We use NO parabens, phthalates, sulphates, or skin bleach. And we use no perfumes or dyes to offer pure and clean products good for all skin types, including sensitive skin.