Healthful Antioxidants and Dark Skin

If you want a more even skin tone or to reduce the appearance of dark marks and circles, then antioxidants should be part of your skincare routine. In fact, we think that antioxidant vitamins and dark skin should be best friends!
What Are Healthful Antioxidants?
Vitamin C and vitamin E are examples of two healthful antioxidants commonly found in skincare products. Healthful antioxidants work to combat inflammation and free radicals your body makes when it metabolizes oxygen. They are also good for repairing skin damage caused by exposure to ultraviolet light and boost the effectiveness of sunscreen. Free radicals cause cell damage and DNA dysfunction and destroy collagen and other parts of your skin's architecture that normally keep it firm and clear. Since we always metabolize oxygen, and are exposed to sunlight, we need to continuously replenish our supply of antioxidants to protect and repair our skin. The good news is our bodies naturally produce enzymes that work as antioxidants, and many plant-based foods contain vitamins that are strong antioxidants.
Healthful Antioxidants and Skincare
Starting with the concept that "beauty comes from within", eating a diet rich in fruits, vegetables, seeds and nuts is a great way to get lots of naturally occurring antioxidants. Beyond that, there are many skincare products that contain antioxidants and use their ability to protect and heal skin at the cellular level to address multiple skin issues including:
Acne
Wrinkles
Dark Marks
Dry Skin
Uneven Skin Tone, and
Damage from UV light
People with dark skin tones often develop discolorations and hyperpigmentation after minor skin injuries, so we should regularly use antioxidants to reduce inflammation and help maintain an even skin tone. There are many different types of antioxidants used in skincare products and found in natural face oils, so knowing which ingredients are effective will help you choose the products that meet your needs.

Common Antioxidant Ingredients
Vitamin C
In addition to boosting your immune system, this vitamin supports collagen production and reverses damage resulting from sun exposure. You can use this ingredient to reduce hyperpigmentation and fight wrinkles and other signs of aging. If treating damaged skin isn't enough, this powerful antioxidant also protects skin against photoaging and boosts the effectiveness of sunscreen. The chemical name for vitamin C is ascorbic acid, but that form of vitamin C is not very stable when mixed with water. Many vitamin C products use more stable forms such as sodium ascorbyl phosphate, ascorbyl palmitate, and magnesium ascorbyl phosphate. When shopping for vitamin C, look for products stored in opaque or airtight containers that limit air and light exposure.
Vitamin E
This vitamin also comes in different forms, but they all include the name tocopherol, which you will see when reading skincare ingredient labels. Like other antioxidants, this vitamin reduces inflammation and is great for healing scars and dark marks. Vitamin E is often used together with vitamin C because they are complementary to one another. Vitamin C dissolves easily in water, while vitamin E dissolves in oils and fats. When used together, they work to provide antioxidant activity to different parts of the skin's cells and infrastructure.
Vitamin B3
This antioxidant vitamin is not as well known for skincare as vitamins C and E, however it is very effective against dark marks and used in many brightening products, and is a natural alternative to hydroquinone. There are different forms of vitamin B3, but the one used in skincare products is niacinamide and is found in products designed to calm the skin, reduce inflammation and promote lipid production to help maintain the skin barrier. When used in combination with stable forms of vitamins C and vitamin E, it delivers a potent antioxidant mixture for healthy skin.
Natural Sources of Antioxidants
Effective antioxidants also come from a variety of natural sources such as green tea and grapeseeds. Like other antioxidants, they support your skin by reducing free radicals and inflammation to improve skin infrastructure and repair sun damage. People who like natural skincare products can look for these plant-based ingredients that are wonderful sources of antioxidants.
How to Add Antioxidants to Your Skincare Routine
There a several skincare products that contain antioxidants, but the highest concentrations of these ingredients are found in serums. We encourage a skin care routine that follows the three steps: cleanse, treat, moisturize. Antioxidant serums can be used in your "treat" step to address many of your skin concerns. Since antioxidants help repair skin that has UV light damage, these serums are great to use during the day, in addition to using at night. Antioxidants are powerful ingredients that come from nature and are meant to fight free radicals. Whether you have dark marks, uneven skin tone or simply want to boost your glow, you will find that adding antioxidants to your skincare routine will provide real benefits to give you healthy skin.
Please comment and let me know. I would love to hear feedback.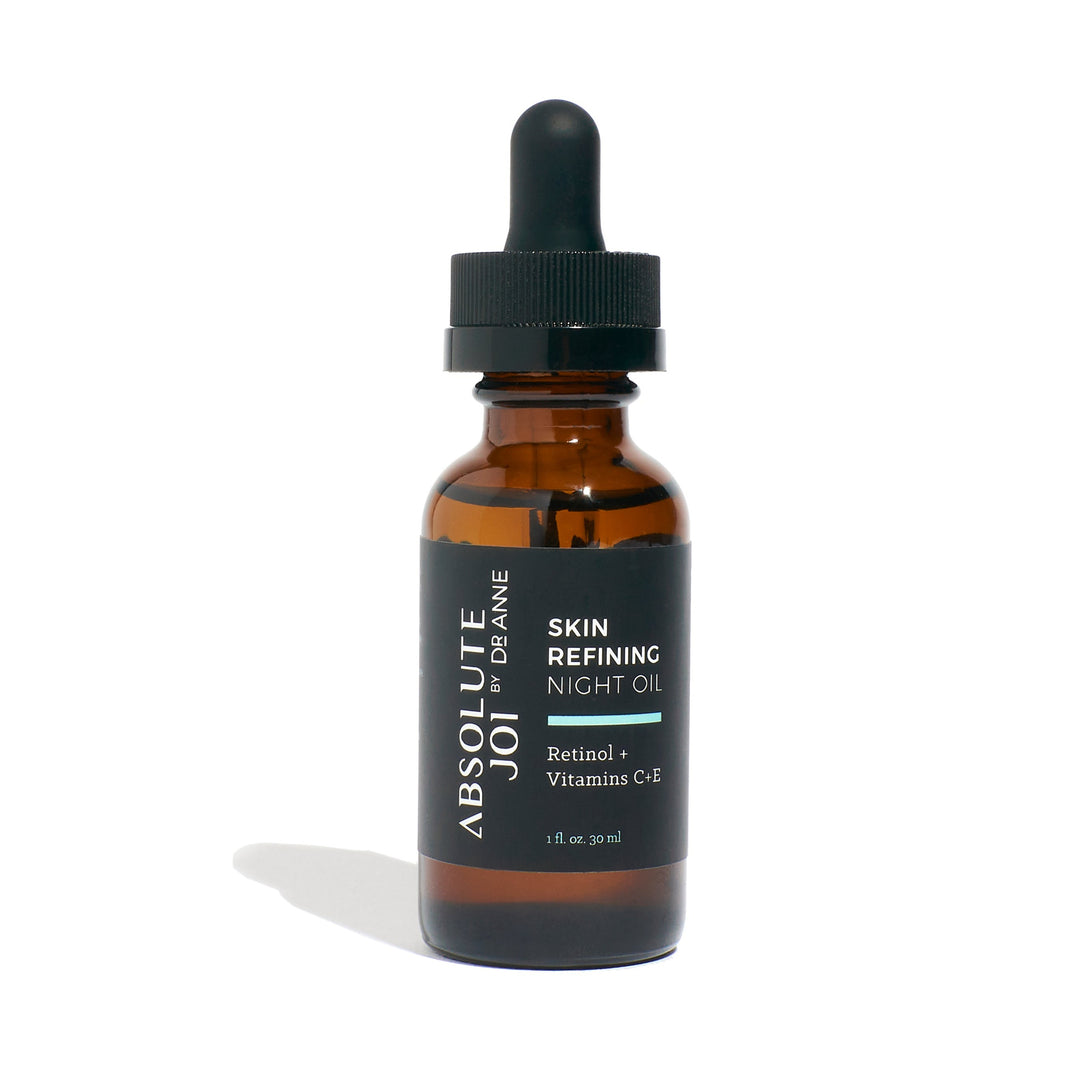 RETINOL PLUS VITAMIN C
SKIN REFIING NIGHT OIL
Our Retinol Plus Vitamin C Skin Refining Night Oil renews skin, brightens to improve dullness, smooths, and improves the appearance of wrinkles, uneven skin tone, loss of firmness, and dark marks for a rejuvenated, radiant appearance.

This antioxidant combination is used by dermatologists for both skin health and skin appearance as a powerful anti-aging combination.

Retinol provides an exfoliation effect, encouraging the shedding of dead skin cells, helping to encourage a brighter, more youthful complexion, and firmer looking skin.

Vitamin C is an excellent antioxidant and helps support skin against stressors to help improve the look of dark marks, skin brightness and even skin tone for radiant, younger-looking skin.

Contains Tetra Renewal Complex™ a proprietary formulation created by Dr. Beal with gentle forms of retinoid, fat soluble Vitamin C and omega-6 and omega-3 essential fatty acids, for all the skin rejuvenating effects of Retinol and Vitamin C in a lightweight oil to calm and nourish skin.

Our Skin Refining Night Oil is designed to work while you sleep, so you can wake up with a fresher-looking complexion.